In this video I go over how to quickly check the folder sizes in Windows 7, 8, or 10 with the free Folder Size program. Basically my hard drive was filling up and I needed to free up some space but I could not easily find which folders contains the largest files. In Windows there is no way of finding the sizes of multiple files without right-clicking each folder and selecting properties. But you can easily sort through all the folder sizes by downloading Folder Size and in this video I show how you can use this program to easily find out which folders are the largest in your hard drive.
---
Watch video on:
Download video notes: https://1drv.ms/b/s!As32ynv0LoaIiHRxPGQztldRA61u?e=szq2Jh
---
View Video Notes Below!
---
Download these notes: Link is in video description.
View these notes as an article: https://peakd.com/@mes
Subscribe via email: http://mes.fm/subscribe
Donate! :) https://mes.fm/donate

Reuse of my videos:

Feel free to make use of / re-upload / monetize my videos as long as you provide a link to the original video.

Fight back against censorship:

Bookmark sites/channels/accounts and check periodically
Remember to always archive website pages in case they get deleted/changed.

Join my private Discord chat room: https://mes.fm/chatroom

Check out my Reddit and Voat math forums:

Buy "Where Did The Towers Go?" by Dr. Judy Wood: https://mes.fm/judywoodbook
Follow along my epic video series:

---

NOTE #1: If you don't have time to watch this whole video:

NOTE #2: If video volume is too low at any part of the video:
---
Show Folder Sizes in Windows 8 with "Folder Size"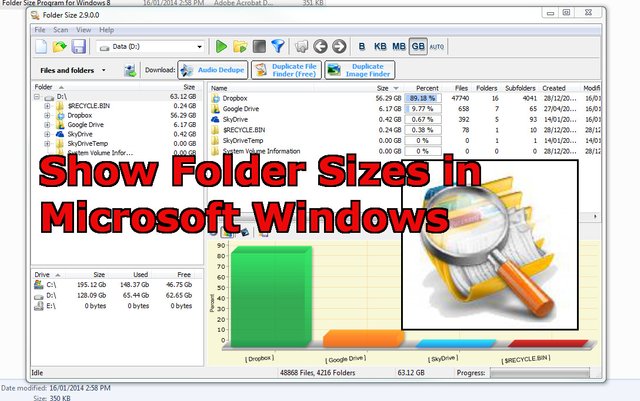 Windows does not show the folder size unless you right click and select "properties" of each folder.
Need a quicker way to check folder sizes to efficiently manage the storage capacity of your PC.
"Folder Size" program is free and very simple to use!
Can download from here: http://download.cnet.com/Folder-Size/3000-2248_4-75157388.html
(or Google "Folder Size for Windows")